My name is Sebastian, I live in Bremen, Germany. I'm a software developer and have a very weird sense of humour.
To put it simply, I take a selfie every day. This has been going on for ten years now.
These are the first and the last picture. They are ten years apart.
(Sorry, I had other plans for the last image of ten years. But is a cold, rainy and grey November day.)
This is my Timelapse video:
The video was exported at 30 fps – meaning that one month in real life is shown in one second. The video gets smoother towards the end.
And here's a few select images, ordered by category. The images in the categories are sorted chronologically. Hover over the images for a brief description. (Sorry, desktop only. If you know how to configure Final Tiles to show descriptions on mobile, please let me know.)
Good Days
There were bad days and there were good days. Many of the good days were around G forces.
Most of the trips to Heidepark (there were more than you see in the gallery above) were done with a good friend of mine; on 16.07.2021 (see above) he took a picture of me taking my daily selfie:
Bad Days
Not all days were good.
The bad days were having to say goodbye to my father and to my soulmate; a cat that has been with me for 16 years and that I loved more than anything or anybody else.
He also was the reason I cut my beard. There was nothing he loved more than to play with my beard. He took it with him.
My father was buried at sea, so I return to the sea every year on the day he passed away and leave a couple of roses.
My cat (Zeus) did love me as unconditionally as I loved him: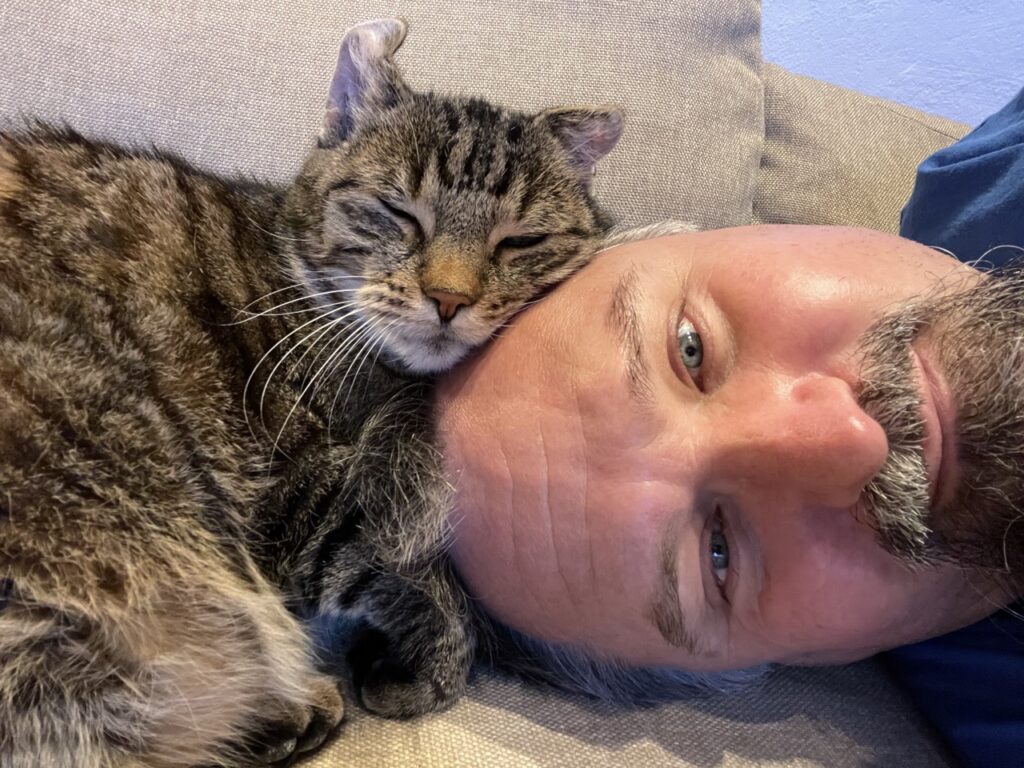 Travelling
I did not really get to travel a lot until 2020; my father sat in a wheelchair and needed a lot of care.
Apple
I've been a software developer for Apple platforms for most of my life. Apple and their products play a big role in my life.
I started with an Apple //c. My first Mac was a Mac plus in the mid 80s. You get the idea.
Apfeltalk
Apfeltalk is a German language forum/news site about everything Apple. They have regular streams and I've been invited as guest a couple of times.
Walks
I spend as much time outside as I can. Give me a forest or a river and footpath and I'm happy.
Fortunately, I live in a beautiful area with lots of nice spots.
Random Images
Just a couple of random images.
Technical Stuff
The selfies were taken with different iPhones I have owned over the past ten years.
iPhone 5
iPhone 5S
iPhone 6 Plus
iPhone 7 Plus
iPhone X
iPhone 12 Pro Max
iPhone 15 Pro Max
The images were taken using TimeShutter. That's also the app I used to export the video.
I installed WordPress on this domain I have only used for mail in the past. I evaluated a couple of gallery plugins and decided to go with Final Tiles.
WordPress has come a long way. I remember using it years ago and the experience has become actually good.
A Word on Timeshutter
Timeshutter is the app I use to take a selfie every day and to position my face. Timeshutter has worked great until September 2023. That's when I upgraded my iPhone 12 Pro Max to an iPhone 15 Pro Max. And when I upgraded to iOS 17.
I don't know which of these factors is to blame here, but I do often get errors after attempting to take a picture now. This mostly happens outdoors in typical "HDR conditions". That's just my observation. Correlation doesn't mean causation.
Timeshutter no longer is a recommendation, unfortunately. Once that bug gets fixed, I'll gladly remove this paragraph.
I have written a mail to the developer but shortly after that I noticed that the domain of the developer was abandoned. Hopes aren't high this is under active development anymore.
Nerd Stuff
I recently held a talk on memory management with an emphasis on the connection between NSRunloop and NSAutorereleasePool at the local CocoaHeads. I used the pictures I used in the galleries above as sample.
Basically, I have taken screenshots of the images I deemed interesting for the albums on this site – right of the app. They looked like this:
(By the way, taken at Battlekart in Bispingen, Germany. They have outlets in a couple of places around Europe. Highly recommended!)
The app I then used to crop away everything around the image was my sample project to demonstrate the accumulation of autoreleased data in loops. – Yes, I'm a nerd.